Jain Caves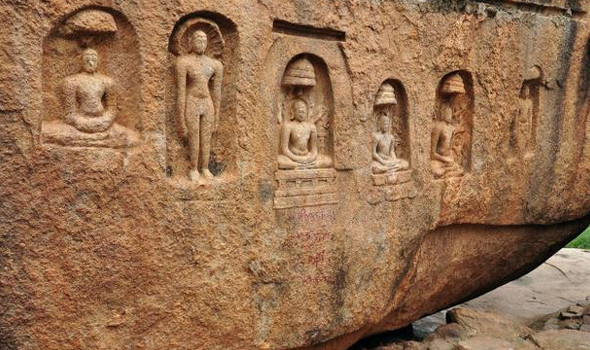 Located in Keelakuyilkudi village which is around 12 km away from Madurai, Samanar hills are beautiful blend of nature with history. Declared as a protected monument by the Archaeological Survey of India, this hill is an interesting site to visit when on Madurai Tourism, presenting a glimpse into the historical richness of southern India. These hills are associated to Jainism with Tamil-Brahmi inscriptions depicting various facets of the religion.
Also known as Samanar Malai as the Tamil word Malai means hills, it boasts of ancient caves with carvings dating back to 1st century A.D. Samanar hill has many prominent sculpture and ancient inscriptions giving an insight into the history and into the Jainism religion which flourished here during ancient times. The inscriptions on the hills are said to be more than 200 years old. These caves were the homes of many Jain monks during ancient era.
At the entrance of the caves, one can see various religiously significant sculptures of Gomateshwara, Mahavira, Yakshi and Yaksha. The two sculptures, Settipodavu and Pechipallam are the major attractions of this hill. Settipodavu presents an image of Lord Mahavira who was the last tirthankara of Jainism. Another sculpture, Pechipallam has eight different sculptures including those of Bahubali and Mahavira. These sculptures of Jain Tirthankaras are said to be built by Jain monks during the 9th century B.C.
As per archaeologists, these caves have more than 2000-year-old Tamil-Brahmi inscriptions as well as Vatteluttu writings. Most of the inscriptions can be found around the entrance of the cave. According to these inscriptions, many of Jain monks took sallekhana here, which means fasting unto death. One can also see many flat stone or stone beds which were used by the monks to rest.